"The Judas Kiss" by Gustave

Doré
Judas Iscariot gets a bad rap from us. (I think I know why.) But sometimes I think we polarize him into a category that we ourselves could never cross. Judas did the unthinkable; Judas did what I would never do. Or did he?
A few weeks back the pastor of my church spoke about Jesus' arrest (Mark 14:43-52). He honed in on Judas and I began to see a fuller picture of who this man was and where he was going. I believe Judas was on a mission. He had big plans and high hopes when he began to follow Jesus. It's pretty clear throughout the Gospels that each one of the disciples had clarity issues when it came to Jesus. They were constantly perplexed by him, drawn in by him, challenged by him, but always confused when he brought up the topic of his his kingdom and his death. I think they acted like I do when I don't understand something; I just sweep it under the rug, and pretend like it's going to happen like I think it will happen.
The disciples along with the Jewish nation were praying for and waiting for the Messiah-The One who would Save them from bondage. When Jesus came, explaining to be The One, people were divided. Is he the Messiah? Has he come to save us?
Save. That little word threw everyone's world into a tizzy. The disciples and the Jews were convinced "Savior" meant salvation from the Romans. The Jews were going to be in power once more. It would be glorious, life would be better. But we know the whole story. Jesus came to save. He came to save us from our sins, not the Roman Empire.
Judas was excited to be headed toward power, authority, and riches. He thought Jesus would take him there. After all, when Jesus, the Savior, overthrew those scummy Romans, who would he take with him to govern the people? Surely the Twelve.
When Judas realized Jesus was not the "savior" he had in mind, it was time to bail. Jesus was not going to make Judas rich and famous. Jesus was not going to install Judas into power and authority in this earthly realm.
Judas was following Jesus for his own gain. And when he realized Jesus' plans did not line up with his, he left. The reality is, he traded Jesus out of greed for thing things of this world. His heart lay on earthly things. Jesus could not be his Lord while he pursued the things of this world, therefore Judas could not truly follow Jesus because it meant giving up the treasures he held in great esteem within his depraved heart.
Does that hit your spirit? Do you connect with that at all?
I am not far from being Judas.
I have caught myself "following hard after God," face on the ground praying, hands in the air worshiping, happy to follow Jesus. Then, as quick as the tide changes, I find myself bailing, because God is not going where I wanted to go. God is not fulfilling my desires on my timeline. I find it hard to submit and think, "It's ok. I'll do it my way."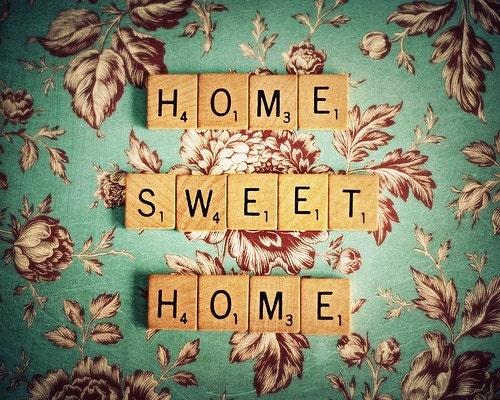 JMBarclay
At the beginning of this month Andy and I found a house that we liked and decided to jump into the world of home-ownership. We were pummeled with new words like escrow (does that sound dirty to anyone?) and began to see the financial waters rise up to our little necks. Wisdom was knocking at the door: "Prepare your work outside; get everything ready for yourself in the field, and after that build your house." Proverbs 24:27 Andy and I started to get the feeling that we were not quite ready for a mortgage and home repairs with our current financial situation.
To the outside world I boasted of my willing heart to say no to this house if it wasn't God's timing, but inwardly my heart wrapped around that yellow home with the wood floors and enough kitchen counter space to start my own bakery.
Though Wisdom was knocking, I was ignoring.
My treasure was owning a home, not following God. At that present moment I did not care if in five months Andy and I might be in the kitchen with all that counter space wondering how we were going to manage our mortgage and school loans. I began to stop caring about what God wanted; that house was going to be mine.
That is just one of my Judas moments, and probably not even the most recent.
But Andy and I made the hard decision and terminated the contract. We knew that our desire for the house had grown larger than our desire to follow Jesus. But the work of God's grace in our hearts is strong, and by grace we were able to say no to our dream and return Jesus to the throne of our hearts. And we believe that the time will come where owning a home will be made possible by God without having to sacrifice Jesus' Lordship in our lives.
You and me, we're not far off, you see. Our hearts are deceitful above all things (Jeremiah 17:9) and instantly we can be lured away by the shiny things of this world. But we're not far off from grace either. In fact, grace is the very thing that teaches us to say no to ungodliness and worldly passions and live self-controlled, upright, and godly lives in this present age (Titus 2:12). And though our hearts will remain in tension, between loving the world and loving God,
by his grace he is making us new everyday
(2 Corinthians 4:16).
So next time you hear about Judas, just think about your current situation. Is Jesus really your Lord? Are you willing to really follow him? Or will your heart remain ensnared in the fading trinkets of this world?